So what's your secret to prosperity in the new year?
Sauer kraut on New Year's Day (that' s my family's... :))? Orange seeds in the wallet (that was the rule in Guadeloupe)?
I learned this weekend that the real trick is all in what you're wearing at midnight. New yellow panties = prosperity in the new year.  For reals.  :)
I learned about the tradition from Crystal, a new customer, and the gal behind Crystal Rose Garden on Etsy. She ordered some yellow panties for her mom for Christmas, and let me know that giving yellow panties is a tradition in her family.
I was fascinated, and delighted to be able to meet her in person where I heard even more! In many Central and South American countries (Colombia, Mexico, the list goes on...), ladies wear a new yellow pair of panties at midnight on New Year's Eve in order to ensure prosperity in the New Year.
If they are given as a gift, all the better. And if you really want to ensure lots of prosperity in the new year, you'd better put those babies on inside out.  :)
So lots of yellow undies are given at Christmastime. And at this time of year you can find them allover Latin America- from department stores to gas stations, to corner stores.
Check out some great photos from Peru here and here. Luckily, I know where you can find lots of yellow undies online. Where, you ask? Why at La Vie en Orange, of course!  :)  Check out a pair nearly identical to the pair Crystal's mom will ring in 2012 with: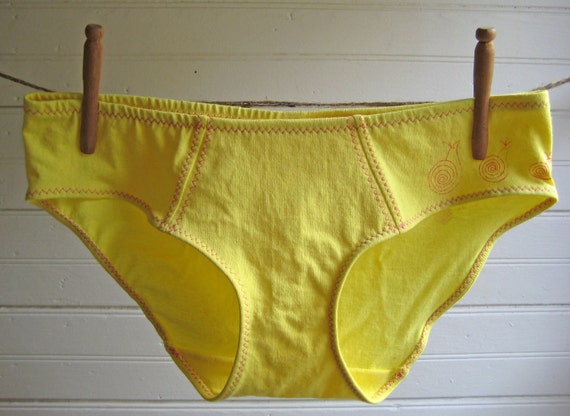 The tradition is said to root from yellow being closest to the color gold (so maybe green would work well in the States too... :)), and should your finances be in order and your heart looking for more luck in 2012, in Ecuador as in other places, wearing red panties instead of yellow will lead to romance and love in the New Year.
So what do you think? Will you be wearing new panties at midnight on the 31st? Comment below :)
Do you have any traditions for prosperity or anything else in the New Year? I'd love to hear about them! Comment below :)
Leave a comment