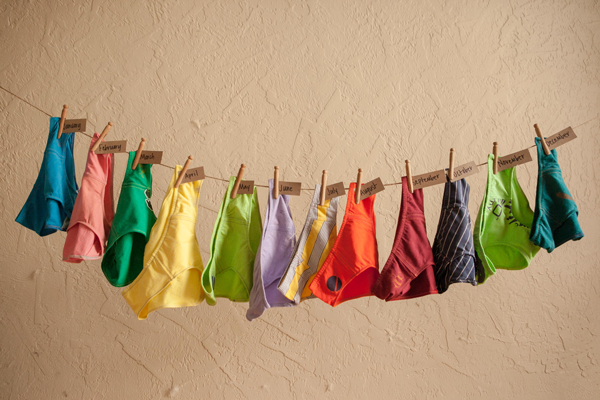 Bust out the bubbly, crank up your favorite tunes, and join me in a celebration! 
The
Underwear of the Month Club
 turns one-year-old this month, and
it is time to party
! It has been a fabulous ride: the UMC members are amazing. Their joy and generosity astounds me. I've learned so much, covered a bazillion booties, and filled underwear drawers allover the country with smiles. 
Haven't become a member yet? Here's what you missed! Let's call it
a retrospective
. Doesn't that feel
really important
? And you know the Underwear of the Month Club is really important.
If you're doing the math, March was Spring Cleaning month where all members mailed me tshirts for their own custom undies (check out the results
here
), and this month's shipment is still under wraps = ten photos :) 
To celebrate the UMC's first birthday, I put the Official Rocket of the Underwear of the Month Club on a cake. 
And I'm running a sale, the likes of which the Underwear of the Month Club has never seen. Ever. 
Join the
Underwear of the Month Club
anytime in October, and save 20%. Use the discount code RocketPowered.
Of the Club, Erin says, "I think it makes the perfect 'cheeky' gift for someone who loves bright colors and whimsical, independent designs. I love the cut, color, and clever design of my Upitees. They fit and flatter, and most importantly, they are the most comfortable pairs of underwear I have ever owned." 
Can't you picture the excitement of getting a package every month with a surprise pair of undies? Especially undies destined to be among your favorites? 
Sending you virtual oatmeal chocolate chip cookies and cupcakes with rocket ships! 
xoxo,
Kori
Leave a comment