$ 32.00
Unearth those buried race tees- it's time for some spring cleaning! 
Take your favorite race tshirt, the one from your first 5k, or maybe that marathon where the wall almost beat you. You love it, but just don't wear it anymore. Imagine it liberated from the bottom of your tshirt drawer and put back into heavy rotation, this time, in your underwear drawer!  
You'll get: 
A pre-paid envelope to mail La Vie en Orange your shirt. Easy peasy! 
A one-of-a-kind pair of undies made from a tshirt near and dear to your heart. 
A cleaner tshirt drawer, and a re-invigorated underwear drawer. It's a twofer! :)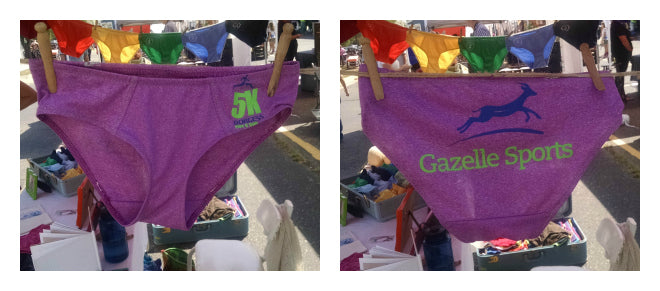 Fit and Process 
Check out our size chart for help with sizing. If you know your measurements or what size you wear in another brand, we can figure out what size you would wear with us. If you have any questions, please email Kori, Cheek Executive Officer.  :)
We'll send you a pre-paid envelope within a day or two. After we get your tshirt, we'll follow up with mockups to make sure you like our ideas for logo/motif placement. We'll email and send photos to make sure we're on the same page before cutting anything out. Then, 3-4 weeks later, we'll ship your new, one-of-a-kind undies!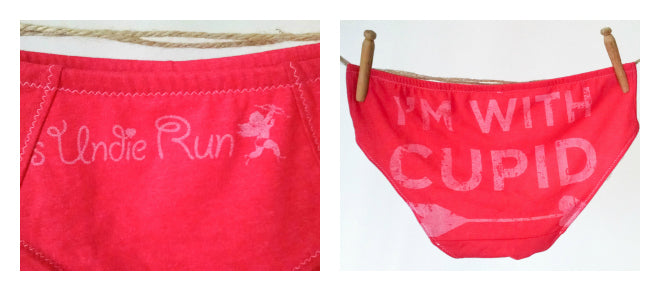 What if they don't fit?
If, after you receive them, the fit is off at all, we're happy to make any necessary alterations- we can take them in or let out the elastic, for example, and we've got all sorts of tricks to make them among the best fitting pair of underwear you've ever had :) It's our Hot Booty Guarantee! 
Styles and Features 
Wedgies are practically impossible in their fuller hipster or brief cut style  
Eco-Friendlier Materials: 100% cotton thrifted tshirt, unbleached elastic, water-based screen print inks  
Hot Booty Guarantee: Undies don't fit on the first try? Let me know and we'll do alterations or make an exchange. Anything to make these your new favorites!  
Curious about the custom undies process? Check out our The Anatomy of Custom Undies blog post. It'll make you smile. :)